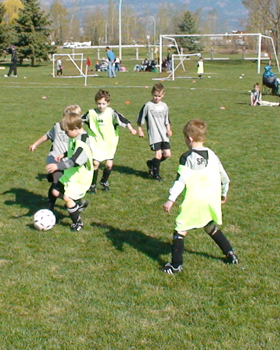 Player Letter of Commitment
Dear Players and Parents:
The Okanagan Mission Youth Soccer Association (OMYSA) has developed a policy for commitment that will apply to all of its players and their parents. Players who do not regularly attend practices and games, or engage in disruptive behavior, have a significant negative impact on the development and enjoyment of soccer for the remaining players. These problems have also resulted in a number of coaches deciding to quit. We feel that this is not a problem for the majority of our players however one or more disruptive players on a team can negatively impact both the practices and games.
Registration
Our program runs as follows:
6 year olds: mid-April until the end of June.
7-16 year olds: mid-April until the end of June (break for the summer) then play in the month of September.
17-18 year olds: mid-April until the end of June.
Read our "Team Formation Criteria" and "Letter of Commitment" forms.
Team Formation Criteria
Click to download
Late Registration Information
Email administrator@okmissionsoccer.com with your child's name & birthdate. Our administrator will let you know if there is room in your child's age group. If so, there will be a $35.00 late fee per family.
Coach Complaint Form
If a complaint needs to be registered please download this form and email administrator@okmissionsoccer.com